Based this on a schematic I found on FSB of unknown origin utilizing the 2SC828 transistor (notice pinout on this one). I found another schematic as well using 2N2222s and slightly different resistor values, but chose to go with the 2SC828 one. Here's to hoping it checks out!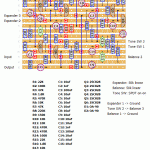 Oh, and I'm pretty sure this'll fit in a 1590B enclosure 🙂
Update (10.11.2012): Built this one myself tonight. I didn't have any 2SC828 transistors, but used 2N2222's with no problems (just watch the pinouts, had to bend the legs a bit), so I can happily say that this works.