As requested here's a vero layout for the Electro-Harmonix Hot Tubes. It's based on a schematic of the older version with a CD4049 IC, and not the newer version which incorporated real tubes.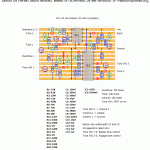 Update (04.02.2011): Just finished building this layout and I can confirm it works 🙂
Update (25.10.2011): Some CD4049 chips doesn't seem to work properly without an additional trace cut between pins #1 and #16. Give that a try if you're having trouble with this build.
Update (02.11.11): Here's a quote from Pedalbuilder that might be useful: "It is usually critical to use the CD4049UBE version of this chip — UNbuffered — not the buffered CD4049BE. May explain problems."
Update (29.11.2011): Redid the layout. Part labels now match the original schematic. Unused pins on the inverter IC is now tied to ground and the electrolytics have been drawn the correct way. I also added a mod suggestion to tame the extreme gain at the end of the "overdrive" pot rotation after having had a closer look at my own build.