Frequently asked questions
Step by step – A bit outdated, but might still be of help to some of you who are just getting into this hobby.
How do you number switch and pot lugs?
Notice the orientation of the 3PDT. If you have a single- or double pole switch (rather than a triple pole one as in the illustration) disregard "4, 5, 6, 7, 8, 9" and "7, 8, 9" respectively.
How can I wire a DPDT on-on-on switch as a SP3T instead?
First of all you don't want the kind of DPDT you often find on guitars, but rather one that throws connections like this: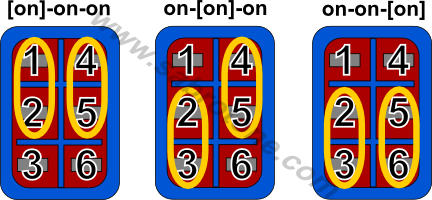 Assuming you have a switch like this, connect lugs #3 and #5 with a piece of wire. You can now use lug #2 as your center lug, lug #1 as your lug #1, lug #4 as your lug #2, and lug #6 as your lug #3.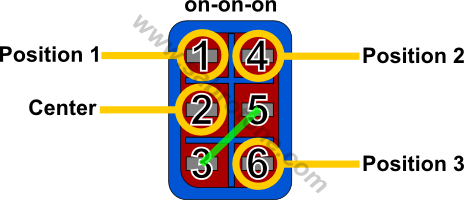 You now have a 3-position toggle switch you can use instead of one of those big rotary switches.
How do I go about biasing JFET circuits?
Lots of effects, particularly preamp emulators and overdrive/distortion, use JFETs (J201 and 2N5457 usually) to achieve gain, and most of these require a specific bias voltage for each JFET to work optimally. There's two ways to go about it, both requires the circuit powered up and running (take care to power down the circuit before removing or inserting the JFETs):
1. You use whatever JFETs you have at hand and adjust their drain voltages using trim pots. This is common on a lot of the preamp emulators. Measure the voltage on each JFET's drain pin and adjust the associated trim pot until it reads approx. +4.5V to +5V. Alternately you can use an audio probe and "listen" to the drain pin of each JFET and adjust the trim pot to where it sounds best. Start at the first stage and follow the audio path (see the debugging section for more on the audio probe).
2. Use fixed drain resistors to +V and find appropriate JFETs for each gain stage. This is a more common approach on some of the name pedals out there. You don't have the luxury of an adjustable trim pot, but are stuck with a fixed resistor. The idea here is the same, you want each JFET gain stage to read approx. +4.5-5V at the drain pin. To achieve this you will have to go through a bunch of JFETs and try each until you find ones that give the proper voltage reading at each gain stage.
How do you add graphical designs to your effects?
See this excellent guide posted by frequencycentral over at FSB.
Where can I find this or that part?
On the right-hand side you'll find a list of all the websites I personally have good experience sourcing parts from. Some of them are in Europe and some are in the US, and none of them are in Norway (so don't complain 😉 )
My effect is squealing/whining/oscillating. How can I address this?
This usually occurs because the circuit amplifies the input signal, often several times in cascaded stages, and some of the already amplified signal finds its way back into an earlier stage of the circuit, thereby being re-amplified again and again in a positive feedback loop. This often occurs with high-gain distortion effects etc., but can be a problem with other types of effects you wouldn't typically call "high gain", like EQs and compressors.
Anyway, here's a few suggestions to keep this from happening.
Keep the input and output wiring separate as much as possible. Both the wiring between the stomp switch and the jacks, and the wring from the stomp switch to the circuit.

Keep wire lengths to a minimum. Long wires pick up more noise than short ones.
If wires have to cross they should ideally do so at 90 degree angles.
Don't let wires from different parts of the circuit run parallel (wiring from the board to the same pot have to do this to a certain extent). The exception here would be ground wiring, see next point.
Consider using shielded wire for the most sensitive signals (input and output). Remember to only ground one side of the shield so as not to create unnecessary ground loops. Ground wiring can second as shield when twisted around a sensitive signal wire, which is the exception to the no-parallel rule above.
Your layout says it's verified, but I'm sure [insert component] is wrong.
There's two parts to this answer. First of all, yes you might be correct. I call a circuit "verified" when it works in an electrical sense and produces the generally expected sound (i.e. a tremolo circuit modulates the signal amplitude and sounds like what you'd expect from a tremolo). I build and verify many of my layouts myself, but I also rely on you, my fellow DIY'ers, to report your success (or failure) stories, and I trust you when you tell me it works.
Second, a lot of circuits have several revisions where one or more parts differ. I base most of my layouts on schematics written/traced by others and the layout is no better than the accuracy of the schematics. Also, sound is very subjective, and your circuit might not sound anything like some youtube demo that's out there. That's not to say there's anything wrong with the circuit, but there are so many other factors that come into play here (guitar, pickups, strings, amp, amp settings, other effects, recording quality, and even the quality of guitar play).
If you think a layout is wrong do let me know, I do make mistakes quite often. I just wanted you to keep the above points in mind 🙂