When you're done with the circuit and want to put it all together in an enclosure you need to add some wire. While there are any number of ways you can do this I've tried to illustrate some of the more common ones here.
Tip: Test your circuit and make sure it works as expected before starting on this. It could save you a lot of trouble later on.
Regular true-bypass
This is the most common way of wiring a single non-buffered effect. If you're uncertain this is probably the one you want. You can also use this wiring scheme on many buffered effects making them true-bypass instead (just use the circuit effect output and ignore the buffered output).
You'll also find a wiring diagram including a battery, though I believe there's little reason to use these now with cheap and readily available DC power supplies. Therefore I won't include the battery in any of my other wiring diagrams.
Buffered effect
This is the usual way of wiring a buffered effect that you want to keep buffered (you can wire most as true-bypass instead, if desired). Note that you can get away with using a DPDT stomp switch as only two poles are actually used.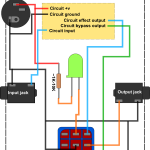 Two circuits in series sharing the same enclosure
Here's how to wire two independent circuits in one enclosure, both as true-bypass. You have an on/off stomp switch for each circuit which toggles that circuit in and out irrespective of the other circuit. If you toggle both circuits on the signal first passes through circuit 1 before continuing to circuit 2.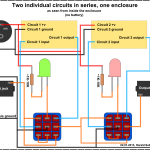 Two circuits sharing an enclosure and you can select one at a time
With this wiring the bypass/effect switch gives you the option of either bypassing both circuits or activating one of them. Which of the two circuits being activated can be selected using the toggle switch. Note that the circuit LED corresponding to the active circuit will only light up when the effect as a whole is active, i.e. it will act as an effect on/off indicator as well. Wiring is true-bypass.
This wiring scheme also works great if you've got a two-channel effect (maybe a preamp emulator with two distinct channels) where the toggle switch will act as a channel switch.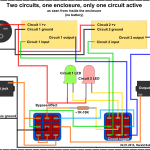 I've included two more variations of this wiring using a dual LED in place of two regular LEDs. Note there's a difference whether you have a dual LED with a common anode or a common cathode.
A main circuit with an optional add-on circuit in series
You have a main circuit that you always want to keep in the effect path, and an additional circuit you want to be able to switch in and out when the main circuit is active. E.g. this is one way of including an extra boost circuit with your effect that can be toggled on and off. Wiring is true-bypass.
Note that there's two different ways of doing it based on whether you want the add-on circuit to come before or after the main circuit in the effect path.
Regular true-bypass, but using the latching relay vero circuit
With this circuit you can use one of those nice "soft touch" single pole momentary on stomp switches in place of the much less elegant 3PDT. You no longer connect the LED directly to the DC jack; instead you wire it to the relay board as indicated (which has an on-board LED resistor and an additional trimmer to further adjust LED brightness to your liking). But you now have to power the relay board itself.
This shows how you wold go about using the relay switch for standard true-bypass wiring of an effect, but there's nothing stopping you from using it in place of any other DPDT on-on switch (board labels "SW 1-6" corresponds to the soldering lugs you'd find on a regular DPDT).
You can find the latching relay vero layout here.