I bet there's a few vero layouts out there already, but I wanted to give it a shot. Here's my take on a vero layout for the Foxx Tone Machine.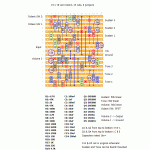 This layout gives you the option of mounting the "Tone" and "Sustain" pots on-board, but I'm uncertain whether the width of the board will allow you to mount it vertically in a 1590B enclosure. I'm giving this a shot so we'll see.
Update (05.07.2011): Put the circuit together last night and it works very well. Layout verified!
Update (29.07.2011): I finished boxing up my Foxx Tone Machine vero build. My kid was particularly pleased with how this one came out (recognized the fox immediately). I'm a bit disappointed though. The thing sounds really cool, but stupid me managed to solder the two board mounted pots the wrong way. No big deal, but it annoys me.
Update (20.10.2011): Fixed dead picture links.