Here's one for the new year! This is a vero layout for the Catalinbread SFT, from what I understand a circuit based on the Ampeg SVT preamp. Should be good for both bass and guitar; let me know as usual 🙂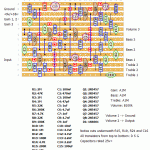 Update (04.02.2013): After building this one last night I decided to change the Gain pot from a log to a reverse log type to get more useful settings from it. With the audio pot there was nothing happening until about 3 o'clock. Seems to be working now; tried it on both guitar and bass.
Update (22.02.2013): Rev. 2: Removed text claiming there's a cut underneath R24 which there isn't.