Here's a quick vero layout for the Marshal ShredMaster. I'm assuming this is a distortion of some kind just from the name alone. Let me know what you think if you build it.
Update (22.02.2013): Built this one tonight and it works. Thanks to Timothy for verifying this one as well. There seems to be an oscillation issue with the drive at max. Placing a resistor in series with the "Drive 3" connection fixed it for me (I used 22k).
Update (23.06.2013): So apparently there's two schematics of this effect floating around, and they're slightly different. Since a few people have had trouble building this I decided to make a layout for the second schematic as well. With a bit of luck this is the one that works 😉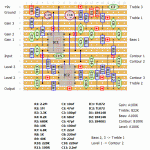 Both schematics can be found in this thread over at diystompboxes.com. My initial version is based on the "1992" schematic, and this new one is (obviously) based on the other one, dated "4/17/02".
Update (25.06.2013): Just built this second version and it works as advertised without any modifications. There was a bit of oscillation with all controls dimed, but this is not surprising with long test leads attached to the pots flying everywhere, and I expect this to be gone once properly boxed.
If you're thinking of building this effect I'd go for the second layout, though both work.
Update (26.12.2013): I've had this thing around for some time now, but didn't put knobs on it until today. Here's how it came out. I'm quite liking it 🙂