Looks like a pretty straight forward TS variant. I chose to omit most of the extra 100nF filtering caps to make the layout a bit smaller. As always let me know if you build it and it works 🙂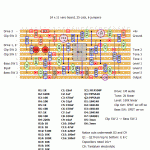 Update (02.10.2011): Just noticed and corrected a small mistake (moved R7 and a jumper).
Update (04.12.2011): Fixed the drive pot which had to be reoriented. Built this tonight and it is now verified.