Here's a vero layout for the Small Time, a buffered PT2399 delay with tails that should fit in a 1590B without much trouble. Do note the non-standard stomp switch arrangement (this one requires only an SPDT).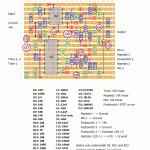 Update (09.06.2012): Thanks to Earplane for verifying the layout!
Update (23.6.2012): Found a small mistake on the layout as I was sourcing parts for my own build. C18 is supposed to be the tantalum electrolytic, not C8. Layout corrected. Sorry for that.