This looks very similar to the BSiaB2, so I'm guessing it's supposed to sound like a Marshall. Enjoy.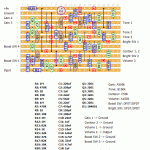 Update (31.01.2013): Revision 1; fixed a mistake on the layout where C17 was misplaced. Thanks to Pierre for spotting this.
Update (02.02.2013): Now verified, thanks to Kenneth and Pierre. If you're having trouble matching JFETs for this one try lowering the drain resistors on Q5 and Q6 to 15k (R15 and R25).