I really liked the envelope filter in the Oberheim VCF, decided I wanted to try another one for comparison, and semi-randomly picked the Mad Professor Snow White Auto Wah. The excellent people of freestompboxes.org traced the schematic of this effect and I just did a vero layout based on this scematic. Here's to hoping everything is correct!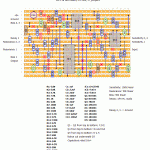 I'm unfamiliar with the transistors used in this effect, but I'm confident I'll manage to either source them or find substitutes.
Update (11.05.2011): Boxed the Snow White Auto Wah tonight. I still need to add knobs, but apart from that I'm happy with the outcome.
Update (20.10.2011): Fixed dead picture links.