The Tone Bender variant called "Boutique Bender" from generalguitargadgets, supposedly identical to the Fulltone SoulBender.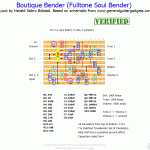 Update (24.01.2011): Just finished the Boutique Bender circuit (hooked up to a charge pump for negative voltage) and it works like a charm! Vero layout hereby verified.
Update (05.05.2011): Finally completed the Soul Bender. I'm not happy with how it turned out on the inside; once I added the transistors the board was much too tall to fit resting on top of the pots, so I had to push the pots aside to dig out some extra space. The wiring ended up a bit messy as a consequence. But it sounds nice and looks nice on the outside.
Update (20.10.2011): Fixed dead layout link.