Update (10.07.2014): Minor changes to the schematic and vero layout to make it work properly with the tap-tempo clock project; tap input switch, series resistor and sync input.
---
And here's the logical follow-up to version 2 of the tap-tempo chip; version 2 of the tap-tempo Trembulator. By the way, since it's no longer looking much like a trembulator I decided to name it just tremolo.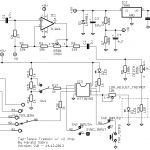 Again, this is with a 5-way selector switch to set the tempo multiplier, and a simple 2-way switch to select only between sine- and square wave. Additionally, there's a DPDT for specifying whether the tap-tempo comes from a momentary switch on the effect or from an external source via a cable of some sort.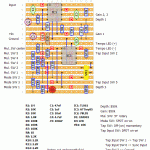 Which leads me to another thing that has to be decided. If receiving a tempo signal from the outside, what would be a good cable/jack/plug choice for this? I don't know yet.
Anyway, here's the layout. Again, I've tested this on breadboard, so the circuit itself should be sound. But that's not saying the vero layout is flawless. And you need to program the ATtiny85 with the tap-tempo v2 source code, of course.
This is the version I'm building, for sure! But I haven't got all the necessary parts right now, so I will have to source it (which is probably going to take a month now considering the season). I'll update as things progress, and if any of you are brave enough to give this a try before me I'd love to hear how that goes 🙂
Update (26.12.2013): Alternate vero layout. Having all those subdivision resistors on the main board seemed a bit redundant. I changed the multiplier input setting to a B10k pot, and if you want to use a rotary switch instead you can just run the "Multiplier 2" connection to the center lug and add the appropriate resistors directly to the switch. More flexible for everyone, and saves space too!
Update (15.01.2014): For some strange reason the 2.1 vero layout wasn't clickable. Should work now, but do let me know if you come over others with the same problem.
Update (24.01.2014): Built it and it works like a charm! No clock noise either 🙂
Not the best shot of the board, though, but I'm not about to remove those wires. You might also notice I've wired the tap-tempo/clock input jack slightly differently than the schematic. I'll post a final schematic and layout, but it's very minor, and the 2.1 will do fine.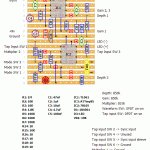 Update (25.01.2014): And here's the final (I would hope) schematic and layout, matching the build above.
Update (13.02.2014): Found a small mistake on the schematic where the ground and signal wire on the clock output jack was reversed. And I got around to building a passive tap-tempo switch as a start.