Just a small update on something else I've been tinkering with lately, namely my second amp build. I've been planning to do this for at least a year now, but parts are really expensive to import and I've had to source a little at a time over a course of many months. This has of course also allowed me to draw, think, redraw, rethink and redraw everything a few times to where I think I'm happy with it.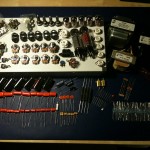 The parts count is quite intimidating and I'm not even sure I'll be able to fit it all in this 16″ x 8″ x 2″ Hammond chassis. At the very least it'll be a great learning experience, and hopefully I'll get it working without too much debugging and redoing. Fingers crossed!
More to come soon, and I'll also post schematics etc. when I have something I know actually works.