So a colleague of mine asked me if I could build him an auto-wah type effect, and specifically something that sounds similar to the MuTron III and it's brethren. Another goal was to simplify the controls a bit by getting rid of unnecessary switches and pots.
Having just recently managed to successfully debug and build the MuTron III vero properly (with the frustration that came with it fresh in mind) I was a bit reluctant to go straight to that one. Rather I wanted to try the DOD440 circuit first. I got it working, but not in a satisfactory manner.
In the end I decided to sit down, read and understand the relevant circuit blocks in more detail and put an effect together piece by piece. R.G.Keen's "Technology of…" article on the auto-wah was of course spot on, but I also found this article by Elliott Sound Products to be a great resource. Along with the schematics for R.G.Keen's Neutron project and the Lovetone Meatball I ended up with a State Variable Filter I was quite happy with, getting rid of most of the controls only keeping a potmeter for "Q" and only using the band-pass output.
Next up was the envelope detection circuit which was a lot harder to get right (it's probably still not right, mind you). Again I ended up with a derivative of several circuits, keeping pots for "sensitivity", "attack" and "decay". I also somehow made it work with a standard TL072 and not the LM1458 that the Meatball uses, but had little luck with any current limiting adjustments for the LEDs and nothing worked as I wanted it to. In the end I was inspired by the Tremulus Lune LFO and put in a trim pot set up as a voltage divider to control the LEDs off-ness. This actually worked surprisingly well and I was able to use all of the optocouplers I had at hand (VTL5C4s, NSL32s and two flavors of home-made ones).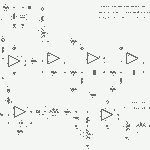 My first take on a vero layout used 2n2 caps for C2 and C3 which I found a tad bit too trebly and switched them for 4n7 ones. R9 and R11 (both 220k) sets the lower limit for the filter sweep, and R10/R12 sets the upper. I tried using 330 ohm resistors for the upper limit, but that made the sweep way too high and I changed it to 10k.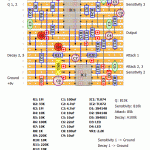 I've now built this successfully using cheap LDRs from smallbear (the 9203 variant) and 3mm high-brightness clear red LEDs (5mm LEDs may not fit on this layout since the optocouplers are so close) and I'm very pleased with how it sounds! Tuned the trimmer to where the LEDs were just barely off with no signal.
Final build images coming as soon as I get around to boxing this…
Update (08.12.2012): Build complete and I'm pretty happy with how it came out in the end. And it quacks nicely too 🙂
It was a snug fit and I had to cut off one of the corners of the board to pull it off, which annoyed me somewhat.
Also, I've updated the schematic. I had left an extra trimmer in there that I never ended up using.
Update (24.01.2013): Layout rev. 1: I forgot to update C6 on the layout which should be 470n (like the schematic). Fixed now.