Having built the Bad Cat Mini II amp, and given how happy I am about that one, I'm contemplating building a 30W Hot Cat amp as well since the schematic is available on schematicheaven.com. But, since these things are quite an investment when it comes to parts and labor I've decided to first build an emulator circuit, similar to what can be found on runoffgroove.com, and in the same vein as some of the layouts I've already covered (like the Dr. Boogey, JCM800 and Boogeyman).
Here's my first attempt at drawing a schematic: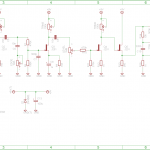 I originally ended the gain channel after the master pot, tuned it to a set of 2N5457 transistors, and reduced the output impedance by a factor of 10 similar to what was done with the Dr. Boogey layout according to gaussmarkov.net, but after building it I was barely able to reach unity gain with all pots maxed. I decided to add the final gain stage leading up to the phase inverter on the gain channel, but also decided to leave this out of the clean channel (as that one was loud enough to begin with). I also switched to and tuned a set of J201 transistors instead. And now it roars! I haven't tried a real Hot Cat amp, but the gain circuit is quite high gain, and very cool.
I added a second 3PDT to switch between the two channels (gain and clean) wiring it to a dual-LED. Red is the gain channel and green is the clean channel. Here's how I wired it: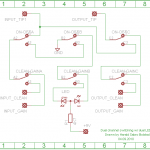 This is the vero layout I created based on my schematic. I originally created a layout without the final gain stage on the gain channel, but after testing it I retrofitted the last few parts on a separate, small vero board. These parts have been added to the final vero layout.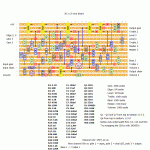 And here's the finished build:
Note that the board pictured is missing the final gain stage, as described above.
The right switch toggles the effect on and off, and the left switch routes the signal through either the clean- or the gain channel when the effect itself is on. The top-most row of knobs represent the gain channel, from left to right is "Gain", "Edge", "Level", "Bass", "Treble" and "Master". The single knob on the second row is the "Volume" control of the clean channel.
Update (15.04.2013): A small mistake crept back into this old layout during spring cleaning. Corrected the cut count, hopefully for the last time now 😉