I was so happy with the Trembulator I decided to give Bajaman's Optical Limiter a try as well. This layout has been double checked, but not yet verified.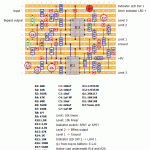 Update (06.11.2010): Ian was kind enough to let us know the layout works.
Update (24.05.2011): Finally managed to complete the Baja Optical Limiter (I notice there's a lot of "finally" with me. I have too many parallel projects going on…). I really like this one, and I also like the way it came out. Happy!
Update (20.10.2011): Fixed dead picture links.