Having completed the power supply I felt confident and decided I'd try a tube amplifier. Since this is my first attempt I'm sticking to something relatively easy, like a single ended 5 watt thing. I found a schematic for the Bad Cat Mini II amplifier on schematicheaven.com and also discovered a thread on freestompboxes.org where a couple of members had actually built this thing.
It took me a long time, but I managed to source all the parts eventually.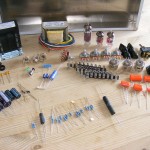 This is very much a learning experience and gut shots of an actual Bad Cat Mini II amplifier helped me figure out approximately how to lay out the various parts in a practical manner. Turns out the chassis I ordered is a lot bigger than it had to be, but that's OK. Would have been a lot worse the other way around.
I've spent some time reading up on amplifier specific issues and considerations. I tried to implement star grounding, but none of the switchcraft jacks I've used are isolated. Once I've got the speaker cabinet ready I'll have to evaluate whether I need to isolate these to reduce hum. Gave the amp a test run with an old speaker I had lying around and it worked quite well on first attempt, albeit at a very low volume. After some investigation it turned out I had the filament wiring on the 12AX7's slightly wrong, but having fixed this the amp now works like a wonder. Time to get started on the cabinet…
Update (27.10.2010): Here's my parts list for this project.
—————————
After many a month of sitting on a shelf my 5 watt Mini II clone finally received a proper house.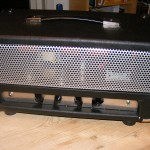 I'm quite happy with it, being my first attempt at an amp, but there's lots of room for improvement. Building the housing turned out to be a lot more challenging than I first imagined, but this might come down to a complete lack of experience. I expect the next amp project to go a lot smoother in this regard.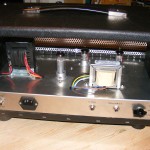 In retrospect the housing should have extended a bit further backwards to help protect the power switch and speaker selector. Oh, and I might also place a board across the back to prevent my kid from touching anything back there.
Now I need to build a speaker cabinet…