Did a layout for this weird effect the other day. From the demonstration videos found on youtube this sounds like a ring modulator with some added twists. Not everyone's cup of tea, but at least here's a vero layout for it!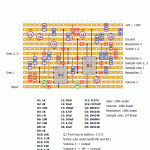 Update (20.07.2010): Populated a vero board according to my layout last night and I can now confirm it. What an obnoxious effect… 😉 Note: I had missed one label, "Volume 1 -> Ground", which has now been corrected.
Update (08.11.2010): The Catalinbread Heliotrope build is now complete (has been for a few weeks, but I didn't pull out the camera until now). Hot pink to match it's sonic qualities!
Update (15.02.2011): Updated the value of R9 after the original schematic was revised.
Update (20.10.2011): Fixed dead picture links.