I've enjoyed previous circuits by Bajaman and, needing an ABY box, I thought I'd give this one a try. As usual the layout has yet to be verified. Let me know if you do.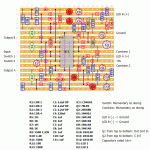 Update (03.12.2011): I built this the other day and experienced some problems. I'm looking into it now. Probably a good idea not to build this right now.
Update (04.12.2011): Fixed. There was a small mistake on the schematic and I had to rework a good part of the vero layout to solve this. Built this last night and this is now verified.
Update (24.01.2012): I actually finished this a few days ago and I'm very happy both with how it works and also how it came out in the end.