Did this a few nights ago, but didn't get around to posting it until now. Not yet verified, but I'm fairly confident it's correct (assuming the excellent schematic drawn by Bajaman is correct, of course).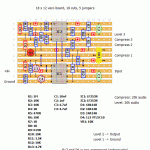 Update (11.10.2011): Verified thanks to Hookey.
Update (28.11.2011): Finished my own build tonight. I'm generally enthusiastic about compressors, but this one sounds even better than expected. Hah!