Ordered a PCB from madbeanpedals, and decided to make a vero layout while I wait for it to arrive in the mail.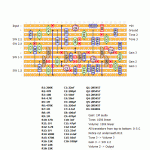 Update (07.06.2010): Received my Dirty Little Secret PCB from www.madbeanpedals.com a few days ago and quickly populated it, boxed it and tried it. Not as hairy as I had imagined, but still an interesting effect. Will have to give it another go soon.
Update (20.10.2011): Fixed dead picture links.