I made a vero layout of the equalizer project at generalguitargadgets.com, and opted for the 5-band variant with an added gain control rather than a 6-band variant. I'm fairly confident the layout is correct as I've gone over it several time, and I've finished the board.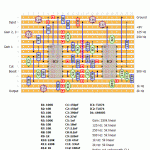 There are so many pots I haven't yet had the time to attach them and test the circuit. Will have to do that once it's time to box this thing.
Update: Boxed the EQ today and realized I had the positive and negative pins on he TL074s swapped (layout has been updated). An hour later I also discovered the gain pot had gone bad and needed a replacement. Still missing knobs and labels, but works like a charm. After having played with it for a while I have to say I really like this thing.
Update (01.04.2012): So this has been up for a long time with a small mistake. After having been reminded time and time again I finally updated the layout. Sorry people. Revision #1 now has C14 with the correct polarity.