Here's a vero layout of the Mid-Fi Clari(not). It sounds like a really fun little circuit.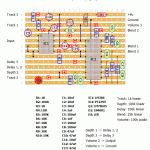 Update (13.10.2011): Mod suggestion from Milkit: "Cut the trace joining pins 1 & 8 of the LM386, join them back together with an spst switch & you have yourself a fuzz cut switch. It doesn't cut out the fuzz totally, but it's not so prominent, kinda becomes more of an overdriven sound."
Update (06.08.2012): Finished this effect the other night and it's really fun, but maybe not so useful. Those knobs needs to come off again, but other than that I'm fairly happy with it.