For no particular reason I just thought this one seemed interesting. Supposedly it emulates the sound of a sitar. Though I'm not expecting anything profound it'll be fun to try it out.
I'm hoping the transformer will fit (looks like the same size as the one for the Octavia).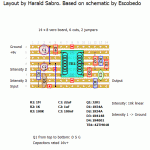 Update (25.05.2012): Now verified as working, thanks to zottel.