Another compressor, this one by Merlin/ValveWizard. I chose to incorporate all the suggested mods on this layout. Let me know if you beat me to it building this one.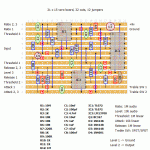 Update (06.08.2012): This might just be my favorite compressor thus far!
I was lucky when boxing this. Had I moved the jacks just a mm more in the wrong direction the board wouldn't have fit the way it does now. But then again if I hadn't added two extra columns to the vero for the wires it could have probably gone in vertically just fine. Anyway, really cool effect 🙂
Update (14.08.2012): Some of you have asked how to modify this to opt out of all the extra controls and have just the "ratio" and "level" ones. Here's how to do t with the current layout:
1. Ignore the "attack" labels and instead add a 100 ohm resistor between them; a good place would be between pads (N2) and (O2).
2. Ignore the "release" labels and instead add a 1M resistor between them; for instance between pads (J7) and (L7).
3. Ignore the "threshold" labels. Add a 1M resistor in place of "threshold 1" and "threshold 2"; a good place would be pads (I9) and (M9), and add a wire link between "threshold 2" and "threshold 3", probably best achieved by running a wire between pads (C1) and (M1).
4. Ignore the "treble" switch labels and leave these disconnected (you can also omit C3 and R4 as these are only used for the treble switch mod, but these can be left in with no detriment to the sound).