This one piqued my interest for some reason. I'm unsure about a few things and I've done a couple of assumptions so keeping my fingers crossed. I will try building this as soon as I'm able to source all the parts.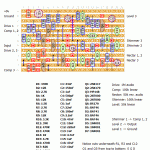 Most of the pots may have to be reoriented. I'm assuming the 2N7000's are used as diodes as this was a bit unclear on the schematic. And I haven't been able to figure out the pinout of the MP14B germanium transistor.
Update (02.02.2012): Built this tonight and I'm very pleased with how it sounds! Reoriented the shimmer pot, but kept everything else as it was. Verified.
Update (08.04.2012): Boxed this one quite a while back, but didn't get around to taking pictures until now. Notice how I squeezed that germanium transistor in there. Not very pretty… Will have to account for the bulkier size next time I try to fit one of those on a 1590B build. Effect sounds really nice, though! (Couldn't resist the urge to put a hummingbird on there, making it quite silly and quite cool).