I'm weak for compressors and this one seems really interesting. Let me know if you try this layout before I get around to it.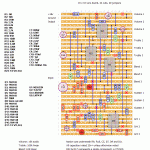 Update (17.12.2011): mysticwhiskey verified this one already over at FSB.
Update (08.04.2012): Finished mine a few days ago. It really annoys me that I put +9v on the decal (I subsequently scribbled over it with a fat, black marker). Other than that I'm really happy with how the board-mounted pots worked out. And it sounds decent too, but not my favorite compressor.