Here's a new layout I've been working on over the holidays. The John Hollis' "Flatline Compressor".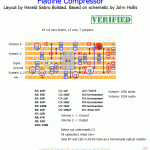 Update (31.01.2011): Finished the Flatline layout today. I can confirm this one is working. Haven't had time to play with it yet, though.
Update (18.05.2011): Boxed the Flatline compressor tonight. It sounds really nice, which somewhat makes up for the green enclosure turning out too dark for the transparent graphics. I tried a variety of different colored LEDs and found high brightness red and orange ones to work best, but your mileage may vary as this probably depends heavily on what LDR you use.
Update (20.10.2011): Fixed dead layout link.