I was looking for another delay based on the PT2399 and stumbled over the Echo Base. It seems like a neat delay with lots of options, but I have yet to hear what it sounds like. I'll take my chances.
Anyway, here's a still to be verified vero layout I just did. I plan on trying this one out pretty soon, but I thought I'd share it as I'm pretty sure the layout is correct (in so far as the schematic I based it on is correct, of course).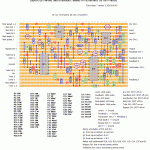 Update (04.09.2011): Built this one tonight and with a few minor fixes this is now verified. The "Time" and "Mod speed" pots were re-oriented and the feedback switch was fixed.
Update (06.08.2012): I've had this one in a box for quite a while, but haven't gotten around to take those pictures. Here's what my build looks like, and it is a bit untidy (also knobs still needed). Kid got to choose graphics 🙂