This is my take on a vero layout for the classic Mu-Tron III auto wah / envelope filter based on the "Neutron filter" by R.G.Keen of geofex.com. As usual the layout has yet to be verified, but I'm fairly certain of its correctness according to the schematic.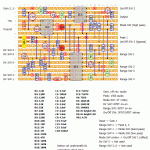 Update (11.10.2012): Finally, a year later… Nobody can accuse me of being quick!
So after a few nights of poking at this I was finally able to get it working. Both the NSL32- and my homemade optocouplers required a much larger resistance than the 4K7 trimmer originally called for. Supposedly this is down to different specs on the optocouplers I chose to use. A 220K trimmer should give a lot more room for tuning this thing.
I would classify this as a challenging build because it's so component sensitive. Now you know 😉