Here's a vero layout for the Omnidrive, designed by John Hollis.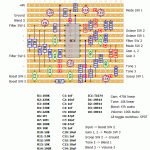 Update (11.01.2011): Added a missing cut underneath R7.
Update (20.01.2011): Built the Omnidrive circuit today and had to rewire the Gain, Tone and Blend pots. I've also updated the layout with what I believe to be the correct switch positions.
Update (14.07.2011): I actually did this some time ago, but forgot to take pictures. This didn't come out as nice as I'd hope to, something about the dark color of the enclosure, and to be honest I don't think it sounds fantastic either. It's certainly a versatile effect with lots of options, but there's something undefinable (by me at least) about it that I don't like. I'm probably just colored by my disappointment in how it came out visually…
Update (18.12.2012): MG discovered a slight discrepancy in the "Gain" pot wiring. I've updated the layout now with only "Gain 1" connecting to the mode switch, not "Gain 1, 2". Thanks for noticing.