Here's my take on a layout of the famous MXR DynaComp compressor effect.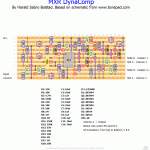 Update (15.01.2011): Based on a discussion at freestompboxes I decided to modify my beloved DynaComp with an optional switch to give it a Jangle Box sound. I modified my existing layout to accommodate the extra switch and created a new vero layout. I love it!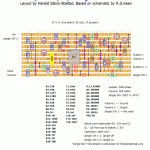 ———————–
I originally had it fitted in a Hammond 1590S. In retrospect I wish I had housed in a smaller box. Maybe I'll do another one.
Update (14.08.2010): Since I finished the DynaComp project a good while ago I've come to really like this effect, and I thought it was time to give this pedal a nicer representation. I originally housed it in an unfinished Hammond 1590S, a fairly large and unwieldy metal box, but yesterday I finally got around to giving it a new home, a nice and shiny red 1290, making it look a lot more like the original. Incidentally this is the first time I work with the 1290 enclosure as well, and it really was a tight fit, but the small size really makes up for the extra effort.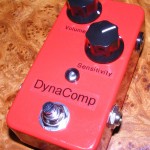 Update (20.10.2011): Fixed dead picture link.
Update (04.11.2011): Reversed wiring on the Sustain pot in both layouts. Thanks Ben.