Here's a vero layout for the OKKO Dominator as requested, based on the recently unveiled schematic over at freestompboxes.org. I haven't verified it, but I went over it a few times and corrected some minor mistakes. It looks OK now.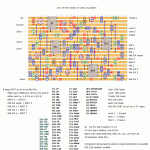 Update (14.09.2011): Updated the vero layout based on Saruman's revised schematic.
Update (25.06.2011): Here's how my take on the Dominator ended up looking. Fairly cool, and it sounds great! An aggressive beast, this one.
Update (20.10.2011): Fixed dead picture links.