You requested it and here is the vero layout for the Way Huge Aqua Puss. This one was challenging, and odds are I've missed something, but you never know. I'll build this and verify/correct it as soon as I source all the parts.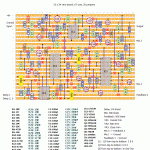 I based the layout on both the schematic done by freestompboxes.org as a group and the schematic drawn by Madbean (if you don't want to go through all the hassle of building an unverified vero you can purchase PCB's from his site madbeanpedals.com). I went with the MN3205/V3205 variant for price/availability reasons, and plan to pick up a set of the reasonably priced CoolAudio ICs myself (V571, V3205, V3102, smallbear carries threse). I'm a little uncertain about the 8V regulator actually giving out 8V from a source of only 9V, and I might end up replacing this with a resistor instead (as described by Madbean in his "AquaBoy" document).
If you try this vero before I get around to doing it myself, let me know how it works 🙂
Update (21.02.2011): Mat has been kind enough to verify this layout as working!
Update (18.07.2012): Reportedly using the 78L08 doesn't work very well so go with the resistor instead.