Found an interesting discussion on freestompboxes.org on the Toneczar Openhaus distortion pedal, and decided I'd have a go at making a vero layout. I plan on building this thing eventually, but the parts count is high.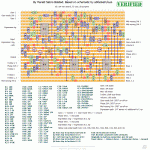 Update (25.05.2010): I went over the vero layout and corrected a few mistakes. C1 and C2 were incorrectly labeled as nF and not uF, and I had the ring and tip of the expression jack switched. Will make the vero board today and start populating it. Still missing a few parts though, so this won't be tested or verified for a while yet.
Update (24.08.2010): Populated the Openhaus vero board. Have yet to find any 2N1306 germanium transistors, but I substituted in a pair of 2N388 to ensure everything works as it should. I also had trouble finding and 470uF caps rated 25V or more that was actually able to fit physically, and decided to try a pair of 220uF, which worked nicely. The bass- and mid pots sounded like I had the wires reversed, so will have to have a look at that.
Here's what it looks like right now:
Update (07.09.2010): Here's my completed build of the Openhaus. The only thing missing is the pair of 2N1306 germanium transistors, but the replacement transistors (2N388) does a good job for now.
Update (09.02.2011): Reversed the wiring on the Mid- and Bass pots, and updated the vero layout.
Update (20.10.2011): Fixed dead layout and picture links.