Did a vero layout for the MXR Phase 90 effect yesterday. Looked over it once after I was done, but can't yet guarantee that it works. Will have to make it one day soon.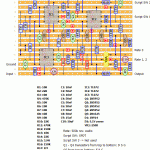 Update (12.09.2010): Went over the layout a second time and corrected a small error; I had the output on the wrong side of the output cap, and consequently had to add another column to make room for the correct output. I'm now confident enough about the layout that I'll start working on a vero board and source the necessary parts.
Update (14.07.2011): Finished this one the other day and as with the Omnidrive I'm not really that happy about the outcome visually, but unlike the Omnidrive I think this one sounds great!
This was a tight fit in a 1590B enclosure and putting it together was great fun. It was only after having soldered the last wire I realized I forgot to take a picture of the board itself, and I didn't want to take it apart again, so no board shot of this one, sorry.
Update (20.10.2011): Fixed dead picture links.