Today's post is unfortunately going to be more of a tease than a practical layout.
I've been experimenting with programming micro controllers the last few days (AVRs to be specific) and I thought a good starting project would be to try operating a latching relay switching circuit with this instead of the CD4069. And hopefully the result will have a smaller dimension too.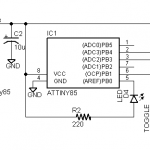 Pretty basic stuff, I know, and I probably forgot something too, but I have breadboarded this and verified that the circuit and controller works.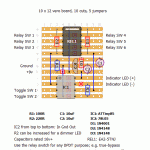 I have yet to verify the actual vero layout though, but will probably do so pretty soon.
Now, I wish I could share this with you all, but even if I put up the AVR binary so you could download it there's still the issue of having to program it onto the chip. I'm open to suggestions. If there's any interest, let me know.
Update (01.04.2013): Works great 🙂
Update (11.10.2013): I know I promised this a long time ago, but better late than never. Here is the source code for the ATTiny85 micro controller used in this vero layout.
RelayControllerAttiny85_vero.c
Now, this is meant for DIY-use only, no profiting! I'm not going to explain how you compile this and tank the micro, that's totally outside the scope here. If there's enough interest I might consider prep'ing some micro's and mailing them out at cost. We'll see.