Apparently the Riot has been retraced and a new schematic has emerged with a few changes that might explain why the first one didn't quite hit the mark. Hopefully this new schematic will be spot on.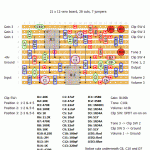 Note that there are a number of small changes compared to the first one, and this vero is not interchangeable (cuts, jumpers and components have been moved).
Update (31.03.2013): Now verified as working, thanks to agung.
On a different note, most any general purpose silicon diodes would probably work fine as substitutes for the 51Y. Experiment with a few different ones or just pick the ones you have at hand.