So after having spent a week in Cornwall this summer, when it came to doing another layout and looking at the request list why not do a Cornish G-2? Silly, I know, but here it is.
It's 21 holes wide so it might just fit in a 1590B enclosure.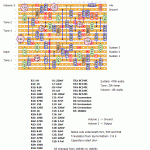 Update (30.07.2012): I built this last night and confirmed what some of you have been reported, it didn't work as it should as the last gain stage sounded mis-biased. After a little investigation I found that I have been working off an outdated schematic that contained a few small errors, most notably it was missing a bias resistor to ground on the last gain stage which makes sense (the other mistake was the sustain pot being 470k instead of 47k).
The layout has been updated (I had to move a few components around to make room for the additional resistor). If you built this already and don't want to do too much work all you need to do is add R43 from base on TR6 to ground somewhere.
The layout now works 🙂