I have no idea what this sounds like. The schematic I based this on (thread at FSB) isn't complete so I made a few assumptions. I chose not to include the last diode pair, and went with the rectifier in the power section.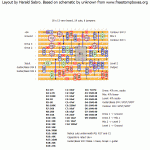 Update (07.07.2012): Reoriented the Drive pot. It should now work as advertised, thanks to Alex for verifying!
Update (12.02.2013): Thought this thing sounded great and decided to box it. Graphic is a bit on the naughty side, and I swear the input indicator was not intended!