This one is based on a schematic by generalguitargadgets which originally calls for a rather odd 5-legged dual optocoupler, the VTL5C4/2. I figured I'd make a layout for two single optocouplers instead, but I don't know how well it will actually work out. You're obviously going to have to try different ones to find ones that work well.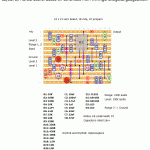 Update (18.12.2012): Finally got this thing working. Tried lots of different optocouplers; two VTL5C4 didn't work at all which was what I was hoping for first, but settled on a pair of NSL32. Lots of quacking, but there's a hint of distortion in there as well, almost as if the IC is slightly mis-biased or is struggling with a bad load. I also note that the VTL5C4/2 optocoupler problem was solved a bit differently (and somewhat cheaper) over at www.beavisaudio.com by placing a single optocoupler across both 220k resistors. That might be a better solution that this layout, but I don't know. Getting a bit tired of sensitive envelope filters using opto couplers, hehe.
Anyway, I would personally try building one of the other envelope filters out there.