Note: This one is experimental.
Accutronics updated their Belton Digital Reverb unit (BTDR-2) and made it much smaller. It also has a different pinout from the old version. I was asked to update my old layout, but I thought I'd try something a little bit more exciting while I was at it.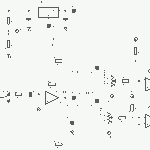 I put together a pretty straight forward schematic based on the version 2 datasheet circuit with the same embellishments as in version 1 (from the D-Verb schematic from GGG). But having two outputs it became apparent that true-bypass wiring would be hard without employing either a 4PDT or some additional switching circuitry. Therefore I decided to put this together as a buffered effect, and the general ideas here were borrowed from Merlin B's "Small Time" delay. So the intention is for this to be a buffered reverb effect with mono/stereo output and tails.
It looks good on paper, but I realize there's much for me to learn still. But rather than leaving this on my shelf for a month or two while I source parts and give the build a try I figured I'd put it up here for the brave ones among you to have a dig at right away.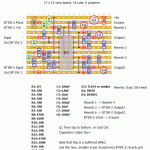 I'm fairly confident the vero layout follows the schematic at least.
Feedback appreciated if you give this one a try, as always 🙂
Update (18.05.2012): I built this one myself the other day and it worked beautifully. Verified 🙂
Update (26.12.2012): Finished this one today. Being in a pretty bad mood the end result turned out looking quite awful, but at least it works and sounds great. As you can see this was a tight fit in a 1590B. I had to bend the second set of solder lugs on the pot to make room for the board (with some insulation between, obviously). Also found out I had used a 2.5mm DC jack when the whole thing was completed and had to replace that, bleh. Anyway.