I know very little about this effect. Let me know if the layout works out.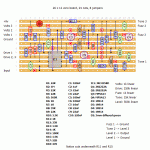 Update (28.12.2011): Built this one tonight just to see whether it works or not. Worked fine, so this one is verified.
Update (04.02.2012): This is a little embarrassing (and a little puzzling) but the layout was missing a trace cut which separates the tone #3 lug from +v. No wonder some of you had trouble getting the tone pot to work. Weird thing is that I do have this cut on my build from December last year. Must have been a slip up, sorry.