It's a reverb effect using the Belton BTDR-2 digital reverb brick, but it also throws in a PT2399. Might be interesting.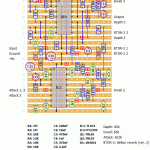 Update (19.08.2013): Forgot to include a link to where I found the schematic, which was here.
Update (20.08.2013): There was something wrong with the layout image file, but I think it's sorted now. Thanks for letting me know.
Update (12.09.2013): Told you I'd fix this the other day and of course I forgot. Anyway, thanks to johnk for spotting the error and verify the circuit as working.