Update (16.07.2014): Revision 1 layout now verified as working, thanks to jack 🙂
---
Update (11.10.2013): Turns out just blindly drawing a layout based on the schematic at hand was a bit thoughtless. The layout is verified as working, sort of… Seems like it's suffering from high gain issues; I couldn't have predicted that. And it's also lacking any output cap leavng the output at a DC potential; I should have seen that one! So anyway. I've done a new layout (leaving the original intact for some reason I can put my finger on) with a few suggested modifications. Hopefully this new one will work a lot better!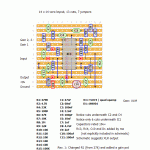 So, calling this kind of verified for now, and let me know how the new layout turns out 🙂
---
I guess this one doesn't need much of an explanation. Vero layout for a Marshall Speaker simulator based on a schematic by Ed Rembold/EJR Music found here.