This vero layout is based on a schematic of unknown origin that was posted by choudy over at freestompboxes. Suggested replacements for the Sharp PC419 optocoupler and the original 2206 transistor have both been incorporated. I also chose to not include the original "rat bypass" circuitry and instead add a 1M pull-down resistor at input and change the output resistor to 100k. I haven't tried building this myself so let me know if you do.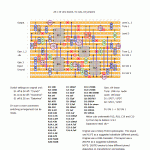 Update (20.01.2013): Yann Robert suggested a few things that needed to be addressed, with which this layout should work. I've incorporated the changes, but I couldn't very well let this old layout stay in the poor shape it was. It's still not an optimal layout, but at least now the components correspond to the schematic it's based on. I'm a bit reluctant to call it verified just yet, another independent build would be reassuring.
Update (21.01.2013): Curiosity got the better of me and I had to give this a try last night. Works great, so the "revision 1" layout is hereby confirmed. A big thanks to Yann Robert for the fixes and verification 🙂
Incidentally I believe the switch settings are opposite of what I've written on the layout, i.e. "off" is "on" and vice versa, but you'll easily figure this out once you try it. Not bothering to correct this unless you can convince me otherwise.