Here's a small utility circuit that can be of help if you want to place your wah in front of your fuzz. Simply stick this one between the two.
As is usually the case I haven't given this a try myself yet, so let me know if you do.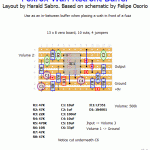 Update (06.10.2012): Thanks to G5120fx for verifying this one as working.
Update (08.10.2012): An on-board trimmer for the volume was requested so here's a quick update on the original layout. Give it a try and let me know if it works.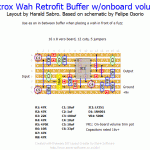 Update (11.10.2012): Thanks Jacob for verifying that the layout with on-board volume also works.