Vero layout for the Analogman King of Tone, a two-circuits-in-one overdrive. I'm really excited this layout came out perfectly squared!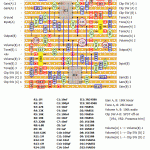 Update (25.10.2011): And here's a layout for the single version.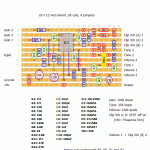 Update (29.10.2011): Fixed dead picture link.
Update (12.11.2011): The full version is now verified, thanks to Glenn.
Update (23.03.2012): I built the single version tonight and found out I had D7 the wrong way. Layout revised and now verified.
Update (19.04.2012): I ended up putting the single version of the King of Tone in a 2-in-1 box with the Fetto. The King of Tone is on the left side.
The wiring ended up being a bit too messy for my liking. Sounds good though 🙂