As requested here's a vero layout for the OD-808, and as usual I have yet to verify this myself. Let me know if you do.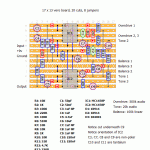 Update (23.08.2011): C2 was incorrectly tied to ground instead of bias which has now been corrected. Thanks to muhd.
Update (24.08.2011): Layout has been verified as working. Again, thanks to muhd.